Fright Night: Halloween Dangers For Pets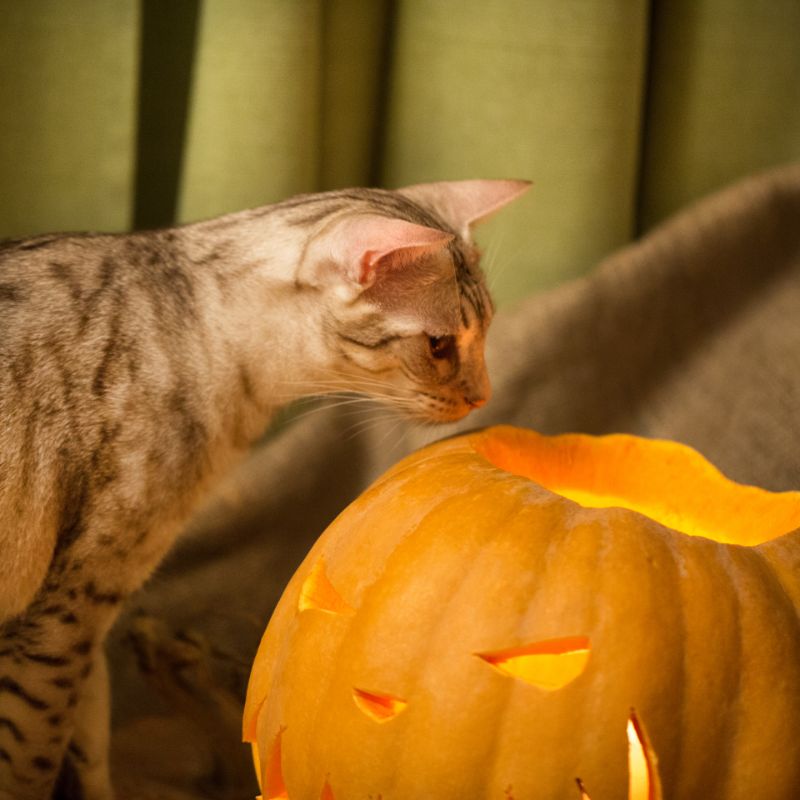 Halloween is one of the most popular holidays for humans, and if the cute internet pictures are accurate, it's popular with pets as well. But even though pets in costume look cute and funny, Halloween can actually be a frightful holiday for companion animals. Certain Halloween dangers for pets can even lead to scary pet emergencies.
But, fear not! With some preparation and planning, as well as awareness, you can make sure your pet stays safe, secure, and happy on Halloween.
Cozy and Safe
Some pets would love to answer the door with you all night long or go along on the trick-or-treating rounds. But if your pet is at all reluctant or anxious, do yourself (and them) a favor and let them sit this one out. 
Create a safe and secure room for your pet away from the front door. Fill it with their bed, toys, treats, water bowls, litter boxes and white noise machine or soft music. Add a little soft lighting and you have the perfect place for your best friend to spend the night. Your pet will be safe and secure, and you'll relax knowing she's away from any Halloween dangers for pets. 
Check ID
On Halloween, many pets go missing – the result of easy access to an open door, commotion, and noise anxiety. Make sure your pet is wearing her collar and identification tags. Better still, have a microchip placed and register the chip with your current contact information right away. 
If your pet will be accompanying you, a reflective leash and/or collar can help make sure she's visible to drivers at night. 
Dangerous Decor, Cumbersome Costumes
Brightly lit decor or that which makes loud or startling noises can easily scare pets. Try to miss these on the neighborhood walk, and stick to silent decor at home if you can. 
Electrical cords can also cause entanglement or even electrocution if a pet chews on them. And the flame of a jack-o-lantern can also cause problems if a pet knocks it over or gets too close to the flame. 
Many pets become uncomfortable and overheated when wearing Halloween costumes. A costume should never restrict breathing or vision. Steer clear of masks and costumes with dangling parts (such as bells) which can be easily chewed off and ingested. Remove the costume right away if there is any sign of stress or anxiety.
Treats Can Be Tricks
Everyone loves to see all the many treats that come home on Halloween night, but many of those are big Halloween dangers for pets. Unfortunately, chocolate is highly toxic to pets, as is Xylitol (a sugar substitute). Both poisoning emergencies tend to occur with some frequency around Halloween. 
Candy wrappers can cause intestinal blockages that may require expensive surgery to remove. Keep all treats and wrappers away from pets to prevent a trip to the animal emergency room. 
Avoiding Halloween Dangers For Pets
Hopefully you now have some ideas for how to prevent Halloween dangers for pets. If you want to eliminate all the risks of the holiday, switch off the lights and curl up on the couch together with a fun or frightening Halloween movie. 
If you have any questions or concerns about Halloween dangers for pets, please reach out to our team. The Bluffs Pet Clinic is always here for you and your pet!