Cat Boarding Care at The Bluffs Pet Clinic
The Bluffs Pet Clinic offers a safe, clean, and comfortable boarding space for your cat. We also have convenient hospitalization boarding options for both current and new patients in Red Wing, MN.
---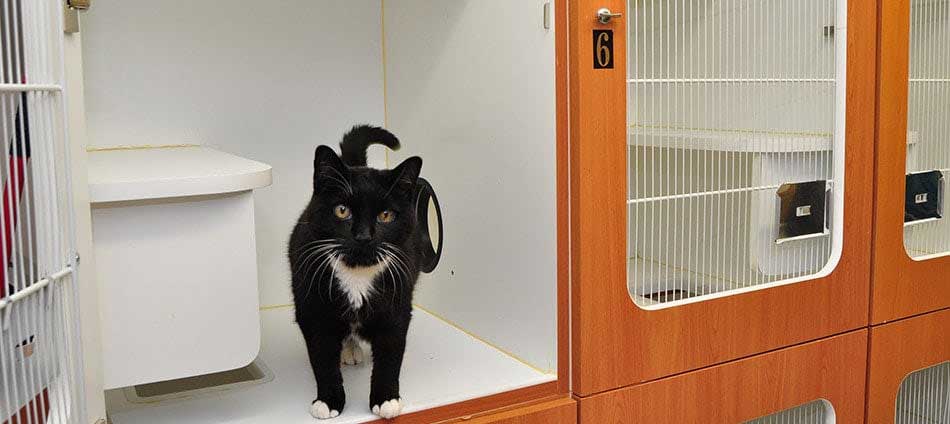 The Bluffs Pet Clinic team is well-versed in the specific needs and behaviors of our feline friends. We are a Cat Friendly® Practice and our staff members are Fear Free Certified®, so we understand how to take good care of your cat and help them feel at-home in our boarding area. We use proven techniques to reduce anxiety and stress, and offer unlimited attention and 100% TLC to all our cat boarders.
Your cat will be carefully observed by our veterinarians during their boarding stay, and will receive immediate care should any medical problems arise. Our doctors are continuously updated on your cat's health status and our staff members keep track of the specific medications your pet requires. If there are any other physical or emotional issues, please let us know so we can provide extra care and keep you informed on your pet's daily progress.
To ensure your pet is content, our cat kennel features air-conditioning and heating facilities which can be easily adjusted based on your cat's comfort levels. We encourage you to bring your cat's individual blankets or toys (although it can be difficult to keep track of personal items after all the cleaning and laundry is done).
In order to maintain a safe boarding environment for your cat and to protect our staff, we require that all cat boarders are current on their Rabies vaccine.
To learn more about The Bluffs Pet Clinic cat boarding services, please contact us.