Veterinarians
Dr. Darlene Cook, DVM
Dr, Darlene Cook is a 1997 graduate of the Wisconsin School of Veterinary medicine. She purchased the Bluffs Pet Clinic in 2001 with a goal of providing exceptional care for animals and support for their owners. She is a Certified Veterinary Acupuncturist through the International Veterinary Acupuncture Society and has also taken extensive coursework in Chinese Herbal Medicine. Using Traditional Chinese Medicine to treat animals is a passion of hers. In her spare time, she enjoys playing ball and walking the trails with her Golden Retrievers and playing fetch with her cat. She enjoys gardening and has a particular fondness for Dahlias and Roses.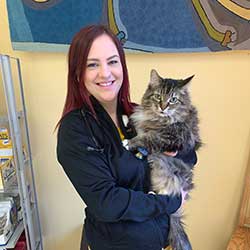 Dr. Sharon Zierath, DVM
Dr. Lesanna Lahner, DVM
Dr. Lahner graduated from Corleton College in 2004 and went on to obtain a dual degree in Veterinary Medicine and Public Health from the University of Madison, Wisconsin in 2011. Dr. Lahner completed the Chi Institute program for Traditional Chinese Medicine (acupucture and herbs) for dogs, cats, and horses while in veterinary school. Lesanna has expertise in exotics/wildlife and works at the Minnesota Zoo as well as The Bluffs Pet Clinic. She shares her country home with her partner, Aaron, and their menagerie of dogs, cats, horses, cattle, sheep, goats, chickens, pigs, peacocks, and a parrotlet. Dr. Lahner has a special fondness for Dobermans and is pictured here with her dog, Johnny Cashew.