Recommendations for Protecting Your Pets From Fleas & Ticks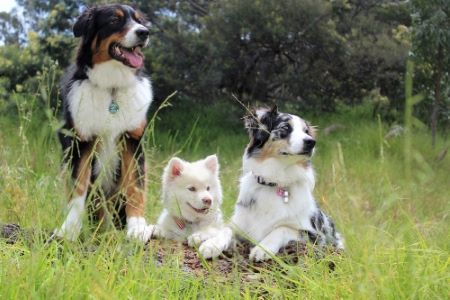 Spring has finally returned, but, unfortunately, that means that so have the fleas and ticks. As flea and tick treatments are always evolving, our own Dr. Darlene Cook, DVM, CVA wanted to share with you her current recommendations for flea and tick prevention for your pets. While we do recommend your pets be on monthly preventatives year-round, Doctor Cook also includes some recommendations for those who use spring through autumn prevention.
Safety
Any medication has potential to cause an adverse reaction and pet and flea and tick prevention is no different. Some pets may be more sensitive than others to certain products, however, there is no way to predict in advance what this response will be. There are oral or topical preventatives as well as collars available to protect your pets. I try to avoid products with the active ingredients pyrethrin or permethrin. Although these products are effective, we see many more adverse reactions from them.
Frontline
Traditionally my go-to flea and tick preventative has always been a Frontline product. The active ingredient, Fipronil, is what I consider to be one of the safest available. Most of my Holistic colleagues share this opinion. Frontline is a topical product that is applied to the skin monthly. This product has evolved over the years as the manufacturer continues to tweak the ingredients to provide the most benefit for our pets. Frontline Gold is recommended to be applied in a line from the neck to the tail on dogs.
If your dog chases rabbits in the winter, Frontline will help prevent a flea infestation in your home when you use it year-round. If, however, you stop using Frontline over the winter, you will need to apply the first dose in the Spring and repeat 2 weeks later for the greatest effect. At that time you can begin monthly applications for the remainder of the season. That second application helps to saturate the oil glands where the Fipronil resides. There are a variety of "knock offs" available that boast the same results since they use the same active ingredient and are much less expensive. The difference is that these products do not use the same patented ingredient that helps the Fipronil disperse throughout the skin and often do not work as well.
Over the years, we have found that Frontline may work differently on a pet-by-pet basis. The discrepancy in efficacy may be due to application error, individual pet chemistry, or fleas and ticks which have become resistant to the product. Frontline does not repel fleas or ticks, rather it will kill fleas once they are exposed to the pet's coat, or ticks once they have bitten the pet. Purchasing Frontline Gold through your veterinary clinic ensures that you will have support for your preventative product, should any problems arise.
Nexgard
NexGard is an oral monthly chewable flea and tick preventative for dogs. Like Frontline, it is effective in killing, but not repelling, fleas and ticks. Some pet owners have noted stomach upset or neurological signs in their pet while using this product. If your pet has a history of seizures, we do not recommend using Nexgard, as it has been associated with seizures in some pets.
Seresto
My choice for flea and tick prevention in my own pets is the Seresto collar. We have been using Seresto collars for years with little more than a local skin irritation on some pets. The Seresto collar is odorless, unlike other flea and tick collars. It is also reported to be non-toxic to people. What I like about the collar is that it both kills and repels fleas and ticks. Because of this, after a fun day of playing outside your pets do not bring these parasites into the house. If your pet sleeps in your bed, they won't be bringing ticks into the bed either. Ticks brought into the home create a risk for humans to acquire tick-borne illnesses.
In our area, we have many endemic tick-borne diseases, the most common being Lyme Disease. Some other tick diseases we have seen in our area include: Anaplasma, Ehrlichia, Rocky Mountain Spotted Fever, and Babesia. Be sure to protect your pets and your family from exposure to these bad parasites.
How and When to Use
If you use flea & tick preventatives seasonally, remember to start your flea and tick preventative as soon as the snow melts from the base of the trees and continue until the snow returns to that same place. The deer ticks are the hardiest and can thrive even in very cold temperatures, but we rarely find them once the snow covers the base of the trees. When we get the teaser thaws in the winter and the snow melts near the trees, we start to see the ticks again as they come out of hibernation in the trees. Some of those ticks also hibernate under siding or on buildings. Deer ticks do not like the extreme heat that we often experience in the summer months, however, there are other ticks which don't mind those temperatures, so don't stop the preventatives in August! As an additional preventative for those using Frontline or Nexgard, I recommend a natural spray applied to your pet's coat. Vetri Repel must be applied daily but will help to repel fleas and ticks and it also has a nice fragrance.
If you have additional questions about the flea and tick recommendations discussed above or want more information about symptoms of tick diseases in your pets, please feel free to contact your friends at The Bluffs Pet Clinic.
Tick diseases in people and pets can be debilitating. Darlene Cook DVM, CVA and the owner of The Bluffs Pet Clinic, has first-hand knowledge of and has conducted extensive research on tick diseases and their effects on people. She is a passionate proponent for year-round monthly flea and tick prevention in pets, especially where that coincides with flea and tick safety for humans. If you contact us she will happily share resources she has found for people affected by tick diseases. For more information on local tick-borne diseases, please visit the following resources.
https://www.health.state.mn.us/diseases/tickborne/diseases.html
https://www.petsandparasites.org/about-capc/top-ten-cities-reports/