How to Keep Your Pets Safe During the Holiday Season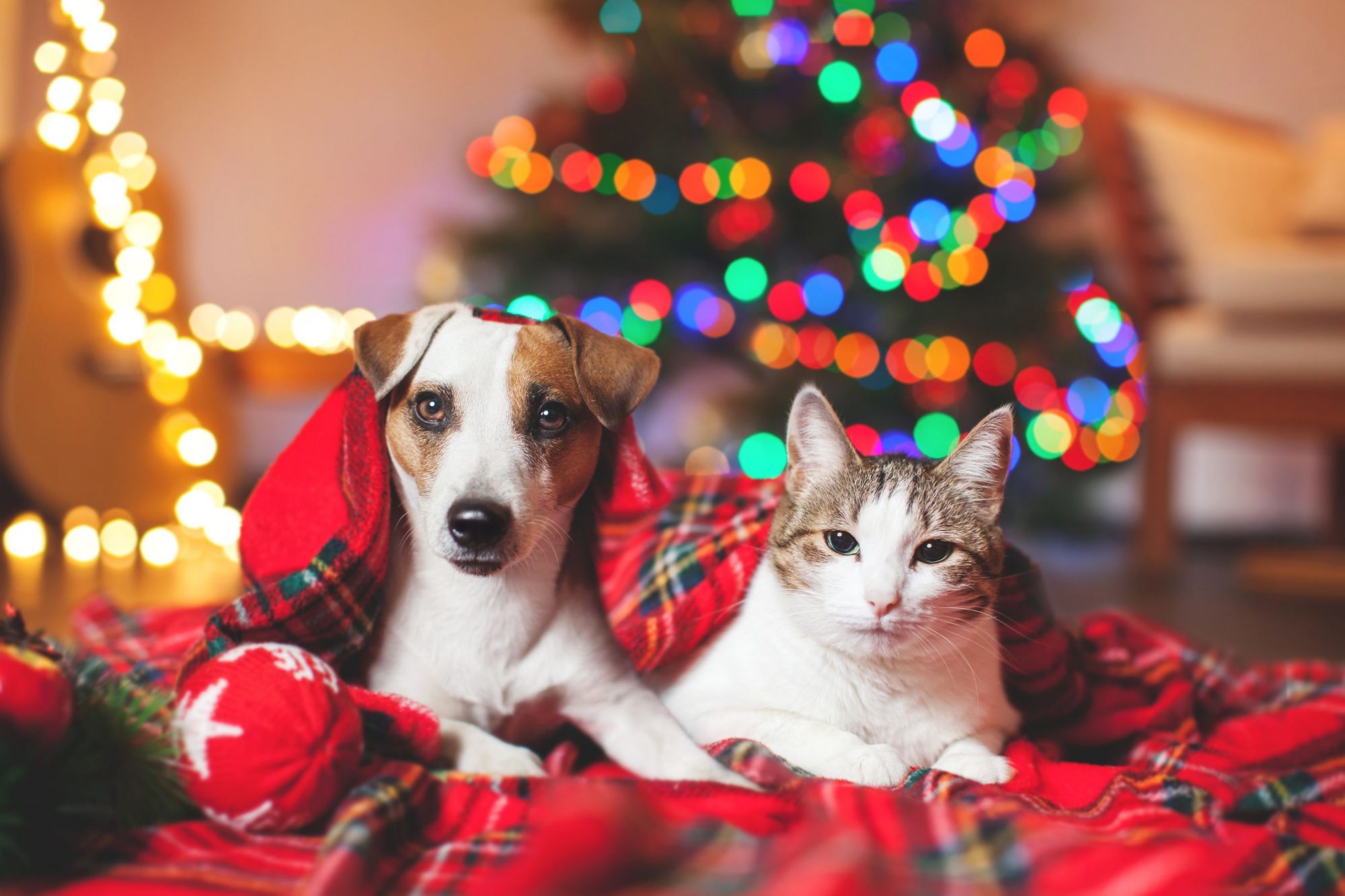 The holiday season is upon us! With the excitement of the season can come potential hazards to your beloved dog or cat. Dangers can lurk in baked treats, festive decorations, candles, and more. Make sure to celebrate the holiday season in a way that encourages pet safety with these tips from The Bluffs Pet Clinic:
Safely Store Tasty Treats
All of those delicious baked goods may seem like a harmless snack to your furry companion, but your favorite holiday cookies and brownies likely contain ingredients that are harmful for your pet to eat. Some ingredients that can be toxic or dangerous include: chocolate, macadamia nuts, raisins, coffee, xylitol, and high fat or sugar contents. Keep any candy or holiday treats stored in an airtight container, high up on the countertop, or behind closed doors where your pet cannot sneak a taste. Store the tasty treats away and avoid feeding your pet table scraps from your holiday meal to prevent pet poisoning.
Secure the Tree
Make sure your Christmas tree is stable and secured, so your dog or cat is less likely to knock it over. If you have a fresh tree, be mindful of which fertilizer you choose to add to the water, and look for one that says "pet friendly." Even with a pet-friendly fertilizer, don't let your pet wander too closely to the trunk. The stagnant water can breed bacteria, and many of the fertilizers contain ingredients that can still upset your pet's stomach.
Shiny and Bright
Shiny and bright decorations are some of the many joys of the holiday season. Keep these festive items away from pets to protect them from a pet emergency. Keep candles out of reach from paws and tails that might be tempted to knock them over and cause a fire. Watch out for messy or dangling electrical cords that your pets can get trapped in.
Skip the Tinsel
Tinsel may be a traditional decoration for Christmas, but it can also appear as an exciting toy to your cats. If your kitty gets excited playing with the tinsel and accidentally ingests some, it can cause a painful intestinal blockage that may require surgery to remove. If you own cats, it's best to skip this decoration entirely.
Reduce Stress
Your pets may feel an increase in stress and anxiety during the holiday season with all of the extra houseguests and activities happening. Help reduce your pet's stress by creating a safe and quiet place where they can retreat. Put their bed, comfortable blankets and bedding, and their favorite toys in a spare room so your pet can relax in a comfortable and calm environment, away from visitors, flashing lights, and music.
Prepare for a Happy and Healthy New Year
One of the best gifts you can give your pet this year is the gift of pet wellness and preventive care. Schedule your pet's annual exam with your veterinarian, to make sure your pet is healthy and not experiencing any signs of pain, and is up-to-date on preventives and vaccines. Wellness exams are also a great opportunity for your veterinarian to catch any early signs of illness and disease. While you're there, you can make sure your pet is microchipped, to help increase your chances of reuniting with them in case of separation.
The team at The Bluffs Pet Clinic is here to care for your pet during the holiday season, and to help them stay happy and healthy year-round. Give us a call at (651) 388-1103 to schedule your pet's next wellness check or to ask about additional holiday safety tips.